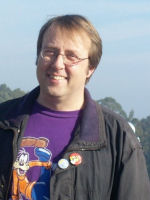 Mark Arnold:
Marketing and Sales Expert
Comic Book and Animation Historian
Editor and Publisher
Writer and Artist
Film/Video Production Specialist
Highly Computer Literate
Consultant
Keep up-to-date on the new projects of Fun Ideas Productions at the
Fun Ideas Facebook Group!
Check out my new Fun Ideas Book Blog. Just a fun place to get autographed copies of my books!

Shop Amazon's New Kindle Fire

Think Pink! The DePatie-Freleng Story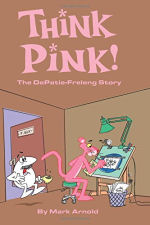 In 1963, Warner Bros. closed down their long-running cartoon facility that had produced such memorable merrymakers as the Looney Tunes and Merrie Melodies cartoons. Director/producer Friz Freleng and executive David H. DePatie faced unwanted early retirement. A generous parting gesture from a Warner executive allowed Freleng and DePatie to lease the former Warner cartoons studio on California Street in Burbank, complete with equipment and supplies, for a few dollars each year.
They teamed up to create animated cartoons for advertising, but not everything behind their enterprise was enchanting. They struggled to keep their small animation studio running against odds and obstacles such as rising costs, heavy competition, outsourcing of labor to other countries, strikes, death, changing directions, and buyouts. They never anticipated how they would soon style a series of cartoon characters that would paint memorable colors over movie animation history.
When director Blake Edwards produced The Pink Panther starring David Niven, Peter Sellers, Robert Wagner, Capucine, and Claudia Cardinale, he envisioned a cartoon character of the same name to illustrate the opening credits sequence. Edwards hired Freleng and DePatie, together with artists at their DePatie-Freleng Enterprises studio, to design the animated sequence. The crafty magenta furry feline minced his way into moviegoer's hearts. The inspiration behind the ink was the people that worked at the DePatie-Freleng Enterprises (DFE) animation studio. Their hilarious cartoons caused a generation of moviegoers to rock theaters with laughter.
Author Mark Arnold returns you to the nostalgic memories of the exhilarating Pink Panther series and other cartoons DFE created. Discover the craftsmen behind the cartoons in an exciting exploration of the Pink Panther, Inspector Clouseau, Ant and the Aardvark, Cat in the Hat, The Grinch, The Lorax, Doctor Dolittle, Spider-Man, Spider-Woman, Mr. Magoo, The Fantastic Four, Planet of the Apes, Doctor Snuggles, Baggy Pants, The Nitwits, The Barkleys, The Houndcats, The Grump, The Super Six, Super President, Spy Shadow, Hoot Kloot, Blue Racer, Crazylegs Crane, Misterjaw, Tijuana Toads, The Dogfather, The Oddball Couple, Charlie the tuna, David DePatie, Friz Freleng, Blake Edwards, Peter Sellers, and various animators. Over 400 photos and illustrations.
Available from

in Paperback and Hardcover. Now!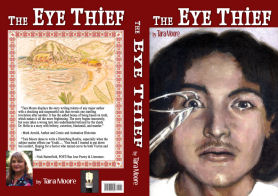 Fun Ideas Productions first novel, The Eye Thief
written by Tara Moore.
A young man in Mexico, Julian, is financially adopted by an American couple after the death of his father so that he can attend school. Then an eye injury brings Julian into the world of a corrupt doctor. Complications result, including theft, kidnapping, body parts trafficking, and murder.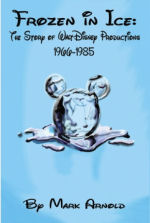 "Frozen in Ice: The Story of Walt Disney Productions, 1966-1985"
When Walt Disney died in 1966, many predicted that it might be the end of Walt Disney Productions, but Walt had a number of ideas and concepts that lasted well into the next decade. He also left behind a well-established group of workers that hoped to continually answer the question, "What would Walt do?" with more magical creations that would dazzle and delight.
With this book, author and historian Mark Arnold explores the major accomplishments of Walt Disney Productions during the years 1966 – 1985, paying particular attention to their theatrical film output, but also discussing the various new theme park attractions and the TV shows produced during that period.
Things went well until the mid-1970s, when ideas started to run thin and repetition set in, causing shrinking box office success. By the 1980s, threats of corporate takeover were knocking at their door, at which time change had become unavoidable if Disney were to survive as an independent company.
Disney had to change their already outdated methods of making movies and running a movie studio geared solely towards family entertainment. As a result, Michael Eisner took over and retooled Disney into the mega-empire that it is today. This is the story after Walt and before Michael…
Available from publisher in both paperback and ebook
Paperback also available from

Click for current price.
"Casper the Friendly Ghost: The Complete Collection (1945)"
commentaries by Mark Arnold (Editor of The Harveyville Fun Times), Edmee Reit (Widow of Casper Co-creator, Seymour Reit), Voice Actor, Bradley Bolke And Alison Argrim
Available Now!
Includes two slimline case clamshells; one featuring two theatrical discs and the third disc in its own case features all of the "New Casper Cartoon Show" episodes.
The 20-page full-color booklet looks fantastic. Written by Mark Arnold, it is crammed with tons of information including where every episode appears in comic books, when applicable.
"Mark Arnold Picks on the Beatles"
Available Now!
Mark Arnold Picks On The Beatles is a song-by-song review by Comic Book and Animation Historian Mark Arnold of literally every song The Beatles ever recorded, both group and solo, released and unreleased.
The book features previously unpublished artwork by Bill Morrison (The Simpsons), who also drew the front cover, Jack Kirby (in a drawing presented by Kirby to Paul McCartney back in the 1970s), Patrick Owsley (Classic Media licensee artist) and many, many others.
Available from publisher in both paperback and hardcover

Paperback Edition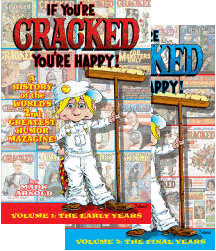 "If You're Cracked You're Happy!"
Available in two volumes from

Vol. 1

Vol. 2
A remarkable and amusing retrospective of Cracked magazine, the best-selling humor magazine in the world . . . if you don't count Mad! The secret origins of the magazine, covering its history with former and future Mad and Marvel Comics contributors John Severin, Jack Davis, Don Martin, Bill Elder, Jack Kirby, Steve Ditko, and Al Jaffee, along with Cracked veterans Bill Ward, Don Orehek, George Gladir. Cracked was responsible for launching the careers of award-winning alternative cartoonists, including Dan Clowes, Peter Bagge, and Bob Fingerman. Crammed with creator interviews, rare photos and art, and a complete checklist of every issue! A must for comics fans and purveyors of popular media.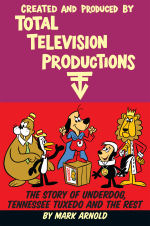 "Created and Produced by Total Television Productions"
Available from

NOW!.
Here at last is the real story of how TTV was formed! Inside you will find rare production artwork and storyboards, as well as reminiscences from TTV's founders.
"Mark Arnold is the guy who the other authorities on comic books and animated cartoons turn to when they're stumped for an obscure tidbit of pop cultural information; he always delivers the goods." - Scott Shaw, cartoonist
"The Best of The Harveyville Fun Times!"
A sampling of the best material from the long-running "Harveyville Fun Times!" fanzine featuring articles about various Harvey Comics characters such as Casper, Richie Rich, Hot Stuff and Sad Sack. Edited by Mark Arnold.
Front cover by Shelley Pleger ("Mickey Mouse, Shanda the Panda")
Back cover by Ernie Colon ("The 9/11 Report", "Richie Rich")
Foreword by Tony Isabella ("Tony's Tips", Marvel Comics)
Edited by Mark Arnold ("Hogan's Alley", "ComicBase", "Atomic Mouse")
400 pages! Full color covers! Complete Harvey Comics history!
Order your copy today! Only $29.95 for paperback or $47.95 for hardback!
Available from publisher in both paperback and hardcover
or contact me at funideas.mark@gmail.com for more information!
Paperback also available from

Click for current price.
Freelance Writing assignments wanted:
Knowledgeable on a wide variety of topics including: Comic Books/Strips - DVDs/Movies - Television - Books/Magazines - Sales/Marketing - Art - CDs/Music
Minimum rate is $.10 per word.
Please contact me with assignment, rate of pay, and deadline requirements.
Send email now!
Watch One of My Comedy Movies! Harvey Art Show Reception at the Cartoon Art Museum
in San Francisco
Some people will go to extreme lengths to get a job! A wonderful time was had by all!
The Geek Speak Show
View "The Stories Behind The Stories" interviews with Mark Arnold.
Mark Arnold at Big Wow! ComicFest 2014
Richard Becker at Big Wow! ComicFest 2014
Visit Fun Ideas on